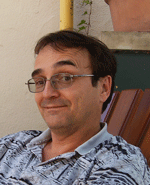 I started in graphic design, operating a small design and advertising company for several years, eventually venturing into print production with long time business partner David Pepper. In the new business I became more involved with marketing and sales, which required me to build and maintain multiple websites for our businesses. With the introduction of social media, the requirements have grown and merged.
I have a good handle on what it means to run a successful business and what it takes to build your branding, it's not easy but takes persistence and a multitude of approaches. Consistent branding through print and social media all play a part. Having an easy to navigate website that tells the world or the customer next door who you are and what you have to offer them, helps immensely.
Norman is owner of Mr. Print Canada (traditional offset, digital and large format printing). He also operates Quinte Coupons (advertising service and flyers) and Clifton Design (web design).